March is International Women's Month, a time to celebrate and reflect on women, their contributions in society, and on their place as leaders at the forefront of creating a more equitable world for all.
This year's theme is: Think Equal, Build Smart, Innovate for Change. There is no better theme and month to celebrate a few of the many excellent women activists, pioneers and innovators who have not only shaped sustainability, health, food security and agriculture, but have also broken the glass ceiling for women while successfully making a positive contribution beyond their local contexts.
There are many women to celebrate, but we would like to highlight the following 6 remarkable women, and encourage you to learn more about them:
Kavita Shukla
One of the most exciting young innovators on our list is working on alleviating food insecurity. Following her childhood experience with her grandmother mixing spices to curb the effects of drinking tap water in India, Kavita Shukla discovered the healing properties of spices, and began creating her own chemical experiments.

Now, Shukla is the Founder and CEO of the FRESHGLOW Co, and inventor of FRESHPAPER, a low-cost innovation using spice combinations to inhibit fungal and bacterial growth, and in turn preserving fresh food for longer. The price point of her innovation makes it accessible to all, from farmers to families from low to high income homes. Amongst the many accolades, she has been recognized as one of Forbes 30 under 30: Social Entrepreneurs, included in Fast Company's list of '7 Entrepreneurs changing the World', and TIME Magazines '5 Most Innovative Women in Food'. Finally, she is the youngest woman to receive the INDEX Design to Improve Life Award.
Eugénie Faïzoun
Fatoumata Bineta Diop
The following young leader, plays an integral role in supporting women farmers in Senegal, while inspiring youth to be passionate about entering the agriculture space. Serving as the coordinator of Senegal's National Board of Women in Livestock Farming, Fatoumata Bineta Diop's primary focus is to draw the youth to agriculture by creating an avenue for intergenerational knowledge sharing, to exist and thrive.
By doing so, Diop aims to preserve indigenous farming practices amongst the youth, and in turn, ensure that agriculture stays a lucrative source of employment for youth, and that the traditional practice remains a key part of the country.

Berta Cáceras
While she was deemed an activist, that word alone cannot capture the revolutionary woman that was Berta Cáceras. A Honduran native, Cáceras was mainly recognized for her role as an environmental, gender equality and human rights activist. Amongst her many great achievements, one of the noteworthy parts of her legacy include her successful campaign, alongside her indigenous Lenca community, against the largest dam developer in the world. Her campaign successfully stopped the construction of the Agua Zarca Dam which was set to be constructed on the Gualcarque River.
Unfortunately, her relentlessness in her activism, coupled with Honduras' violent climate towards environmental and human rights activists, led to her assassination. The event of the assassination enraged the international community, however she is still fondly remembered for her bravery which earned her accolades including the Goldman Environmental Prize, and being a finalist for the Front Line Defenders Prize.

Wangari Maathai
Finally, the list would not be complete without the titan, Wangari Maathai, a Kenyan environmentalist and sustainability enthusiast. Maathai became the first Africa's first woman Nobel Laureate, and the first environmentalist in the world to get that honor. Driven by her vision to see natural scenery rehabilitated and celebrated, she single-handedly restored the Kenyan landscape by planting trees. She founded the Green Belt Movement, in order to motivate her fellow Kenyans to know and actively participate in environmental affairs and replanting trees. Outside of the Green Belt Movement, she was a well-known advocate for women, poverty alleviation and justice.

Beyond their innovations and activism within the sustainability, food security and poverty alleviation fields, what ties these women together, is their drive to create change, and empower other women in doing the same.
Rozanna Medina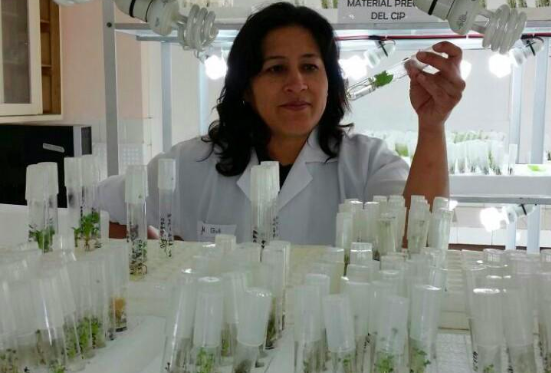 Hailing from Bolivia, our next brilliant innovator is using agricultural innovation to increase her country's crop production, and contribute to food security. Working in Bolivia's National Institute for Agricultural Innovation and Forestry, Rozanna Medina has over a decade of experience managing the country's agricultural in-vitro culture. Medina stores the country's entire collection of Bolivian crops, and has been a key contributor to the 20 innovations that have been adopted in her field, while supporting over 10,000 women subsistence farmers. In addition to her national recognition, her work has been recognized and supported by the World Bank, in their aim to increase the number of women scientific researchers and innovators around the world.
May we all be inspired by these women, and those around us, to act in our own quests to contribute to the betterment of society.