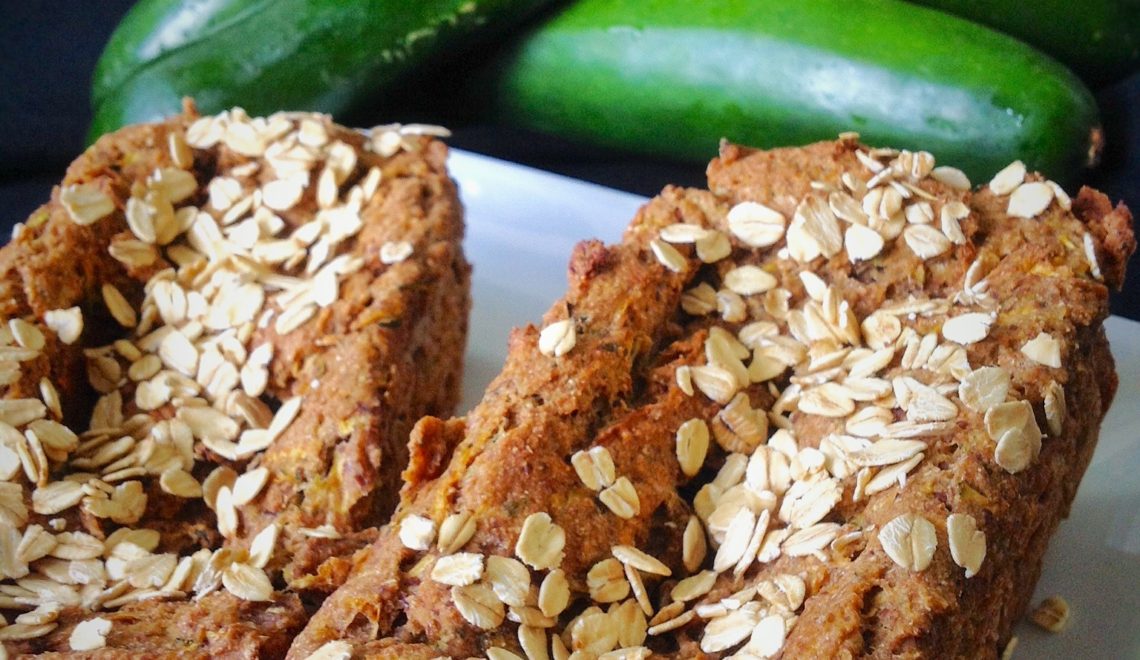 When the peak of summer gives you a surplus of zucchini, it's time to bake bread. Cinnamon and nutmeg add interesting spice while oat flour creates a fluffier texture. A dash of Moringa powder adds some green inspiration. Toast this vegan, whole grain, oil-free, sugar-free bread for breakfast or snacking any time.
Servings: 18
Ready In: 80 minutes
Ingredients
¾ cup dried dates
1/4 cup unsweetened applesauce
3/4 cup plain almond milk
1 tsp vanilla extract
2 large zucchini, grated and squeezed (about 1 ½ cup)
1 ½ cups whole wheat pastry flour
1/2 cup oat flour
1 tbsp. Moringa powder
2 tsp baking powder
1 tsp baking soda
2 tsp ground cinnamon
½ tsp grated nutmeg
¼ teaspoon salt
2 tbsp rolled oats
1/4 cup sunflower seeds, currants, or other mix-ins (if you like)
Procedure
Gather ingredients, preheat oven to 350 F
The Wet Ingredients: First, feel for any pits in the dates. Then, combine the dates, applesauce, almond milk, and vanilla in a microwave-safe container. Microwave for 90 seconds, then set aside for a few minutes.
Grating the Zucchini: Set up the grating blade on your food processor to the smallest opening. You can also use a box grater. Trim and cut the zucchini into large pieces. Feed the zucchini through the grater. Remove the grated zucchini from the food processor, squeezing out liquid as you go. Place the grated zucchini in a clean kitchen towel. Squeeze the zucchini in the towel to get out as much moisture as possible. Don't be shy! You want to get rid of as much moisture as possible. You'll need 1 1/2 cups grated zucchini.
Clean out the food processor. Place the date-almond milk mixture in the food processor. Puree until smooth.
The Dry Ingredients

:
Sift together the whole wheat pastry flour, oat flour, Moringa powder, baking powder, cinnamon, nutmeg, and applesauce into a large bowl.
The Batter

:
Add the wet ingredients to the sifted dry ingredients. Add the grated zucchini. Stir just until combined.
Baking the Bread

:
Line 3 mini loaf pans with foil, parchment, or spray with oil. You can also use 2 large loaf pans or 18 muffins. Pour the batter into the loaf pans. Sprinkle on the rolled oats.
Bake in a 350F for about 70 minutes, until a toothpick can cleanly be inserted and removed. It will be about 90 minutes for a full loaf size or 45 minutes for muffins. Remove and let cool 15 minutes before slicing.
Chef's Tips: For interesting texture, you can add in dried fruit or chopped nuts. Add 1/4 cup of whatever you prefer: dried currants, golden raisins, chopped walnuts, or pecan pieces. My favorite are sunflower seeds for a healthy, seeded bread.
Yield: 3 mini loaves, 2 large loaves, or 18 muffins