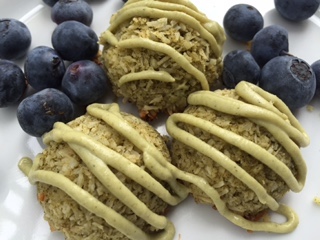 Macaroons typically have sweetened condensed milk, however these are a great dairy free alternative from our Moringa Recipe Contest. MoringaRoons with Cashew Moringa Icing are both powered up with Kuli Kuli moringa powder, making them more nutritious than an indulgent dessert. Have these as a satisfying snack or add them to your morning fruit bowl.
Recipe: Moringa Macaroons with Cashew Moringa Icing
Chef: Erica, CA
3 egg whites
2 tbsp fresh lemon juice
2 tbsp honey
1 tsp fresh vanilla bean
pinch of sea salt
2 c coconut flakes
Preheat oven to 375 degrees.
Beat the egg whites well. (Or place in a blender and blend on low speed for 4-6 seconds.
At the honey, vanilla, salt, and moringa powder and mix until well combined.
In a bowl, fold in the coconut flakes with the eggs mixture.
Place a piece of parchment paper on a cookie sheet.
Using a tablespoon, scoop out the macaroon batter and place onto the cookie sheet. It's helpful to press the mixture firmly into the spoon, then press on one side to pop it out.
Bake for about 12-15 minutes, watching carefully. Once the coconut flakes begin to brown on the edges and turn golden on top, take them out and let cool.
For the Cashew Moringa Icing: 
1 cup cashew, soaked in water
2 tsp lemon juice
1 tsp vanilla
pinch of sea salt
1/4 cup maple syrup
2 tsp KuliKuli moringa powder
1/4 cup water
Rinse and drain the cashews.
Add the cashews plus the rest of the ingredients, except the water, to a blender.
Blend until smooth, adding a little water at a time until it begins to mix.
Scoop the icing into a ziplock bag or piping bag.
Drizzle the icing on top of the Moringa-Roons and enjoy!
Vote for this recipe
You can find many more yummy moringa recipes on our blog!