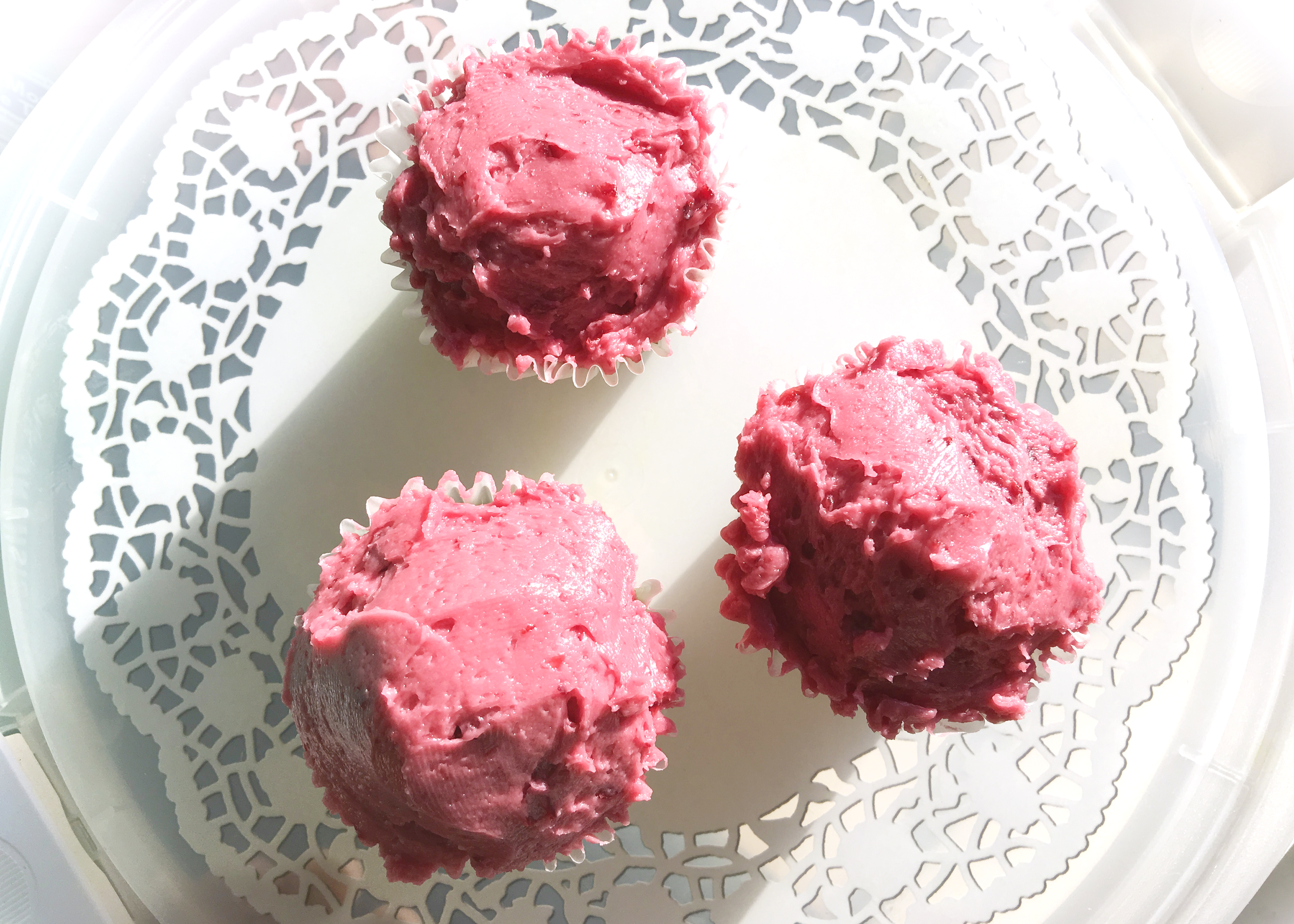 Today we have some delicious cherry frosted moringa cupcakes for you to wow your sweetheart off his or her feet! It's the perfect treat to have when you're on a romantic picnic.
Ingredients for the Cupcakes
1/4 cup moringa (2 SS packets)
2 1/2 cups flour
1/2 teaspoon salt
1 teaspoon baking powder
1 cup vegetable oil
1/4 cup coconut oil (melted and cooled)
2 cups white sugar
3 eggs
1 teaspoon vanilla extract
2 tablespoons lemon zest
1/2 cup milk
2 1/2 tablespoons fresh lemon juice
Ingredients for the Frosting
3/4 cups Unsalted Butter, At Room Temperature
2-3 Cups Powdered Sugar (depending on how sweet you like your frosting!)
1 teaspoon lemon juice
1 teaspoon Vanilla Extract
1/2 cup cherry preserves (like Bonne Maman)
1 Tablespoon Milk Or Cream (If Needed)
Directions
Preheat oven to 375 degrees F  and line cupcake pan cups with paper liners (about 24).
Sift the moringa, flour, baking powder, and salt together in a bowl. In another bowl, beat the vegetable oil, coconut oil and sugar with an electric mixer until light and fluffy. Beat in the eggs one at a time, beating each egg until incorporated before adding the next. Mix in the vanilla extract, lemon zest, milk and lemon juice until smooth.
Gently beat the flour mixture into the wet mixture. Beat until just combined; do not over mix.
Fill the prepared cupcake liners with batter 3/4 full, and bake in the preheated oven until a toothpick inserted in the center comes out clean, about 17 minutes. Let the cupcakes cool in the pans for about 10 minutes before removing them to finish cooling on a rack.
To make the Frosting
Add butter and cherry preserves to the bowl of your electric mixer fitted with the paddle attachment and beat until creamy. With the mixer on low speed, gradually add the powdered sugar. Increase the speed of the mixer, scraping down the sides if needed, beating the frosting until fluffy and combined. Beat in the vanilla extract and lemon juice.
If the frosting seems too thick, beat in the tablespoon of milk. If it seems to runny or too thin, you can beat in more powdered sugar. The frosting is done once it is a spreadable consistency.
Tip: Put some sprinkles on your cupcakes for the finishing touch!
You can find many more yummy moringa recipes on our blog!