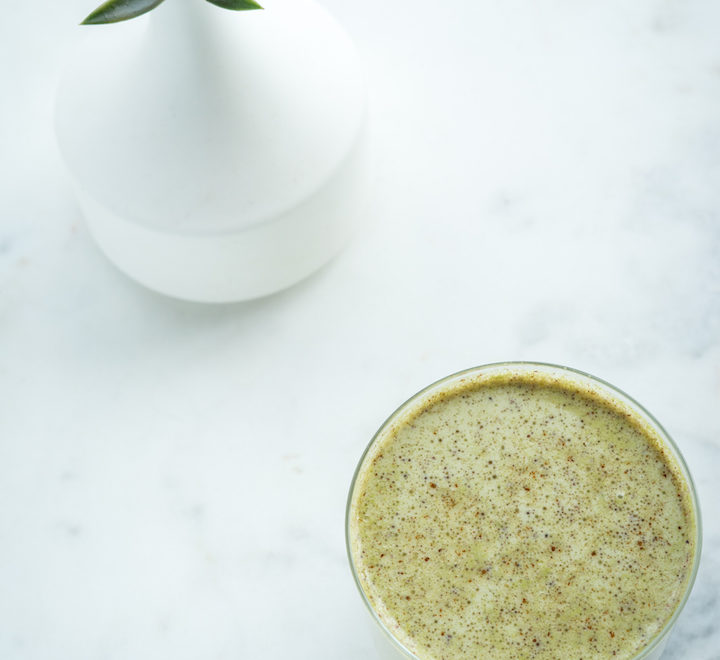 Meal deliveries just got more delicious and nutritious.
As a company dedicated to helping people to get their greens on-the-go, Kuli Kuli is thrilled to team up with Thistle, a meal subscription and delivery service that serves organic, primarily plant-based, and locally-sourced healthy foods and juices across California and Nevada.
Thistle's mission is to provide everyone with high-quality, nutritious and convenient plant-based foods so that you can feel energetically aligned, equanimous and whole. It made sense to create a line of products that are enriched with Kuli Kuli's Pure Organic Moringa Powder.
Below are three #moringainspired healthy indulgent desserts that you can feel good about.
1. Clover – Moringa Mint Chip Almond Milk
Clover, Thistle's moringa mint chip almond milk, is inspired by the holiday season and the minty refreshing flavor of a mint chip milkshake. It tastes like ice cream, but without all of the sugar and dairy!
Clover combines housemade almond milk with anti-anxiety adaptogens like cordyceps and maca with mint, cacao nibs, vanilla, and moringa. One of the most nutrient dense plants on the planet, Kuli Kuli's Pure Moringa dried leaf powder is a great source of plant protein, iron, B vitamins and vitamins A and C. Cordyceps, mushrooms from China, have been thought to improve aerobic activity and increase energy levels and stamina. Together, these unique ingredients integrate some of nature's most impressive sources of nutrition all in a beautiful minty green bottle.
2. Dark Chocolate Cherry Moringa Squares
The Dark Chocolate Cherry Moringa Squares are Thistle's take on a healthy brownie snack. These squares pack in oats, vegan protein powder, sunflower butter, dried cherries, raw cacao, and toasted almonds, plus moringa for a superfood twist.
3. Stone Fruit & Coconut Smoothie Bowl
Thistle's Stone Fruit and Coconut Smoothie Bowl is a blend of the last sweet stone fruits of California's Indian summer with creamy coconut milk for a rich finish packed with healthy fats. The smoothie is topped with our Kuli Kuli Pure Moringa granola (hemp seeds, sunflower seeds, puffed grains, + moringa).

So how can you order these incredibly healthy snacks?
Ordering is simple! Just head to (www.thistle.co) and select your plan. The plans are completely flexible, so you can choose between breakfast, lunch, dinner, juice, and snack for 3-6 days/week. Thistle delivers straight to your door in the morning so that the meals are fresh, and everything is completely ready-to-eat.
Remember to use the promotional code
KULIKULI to get 20% off your first order.