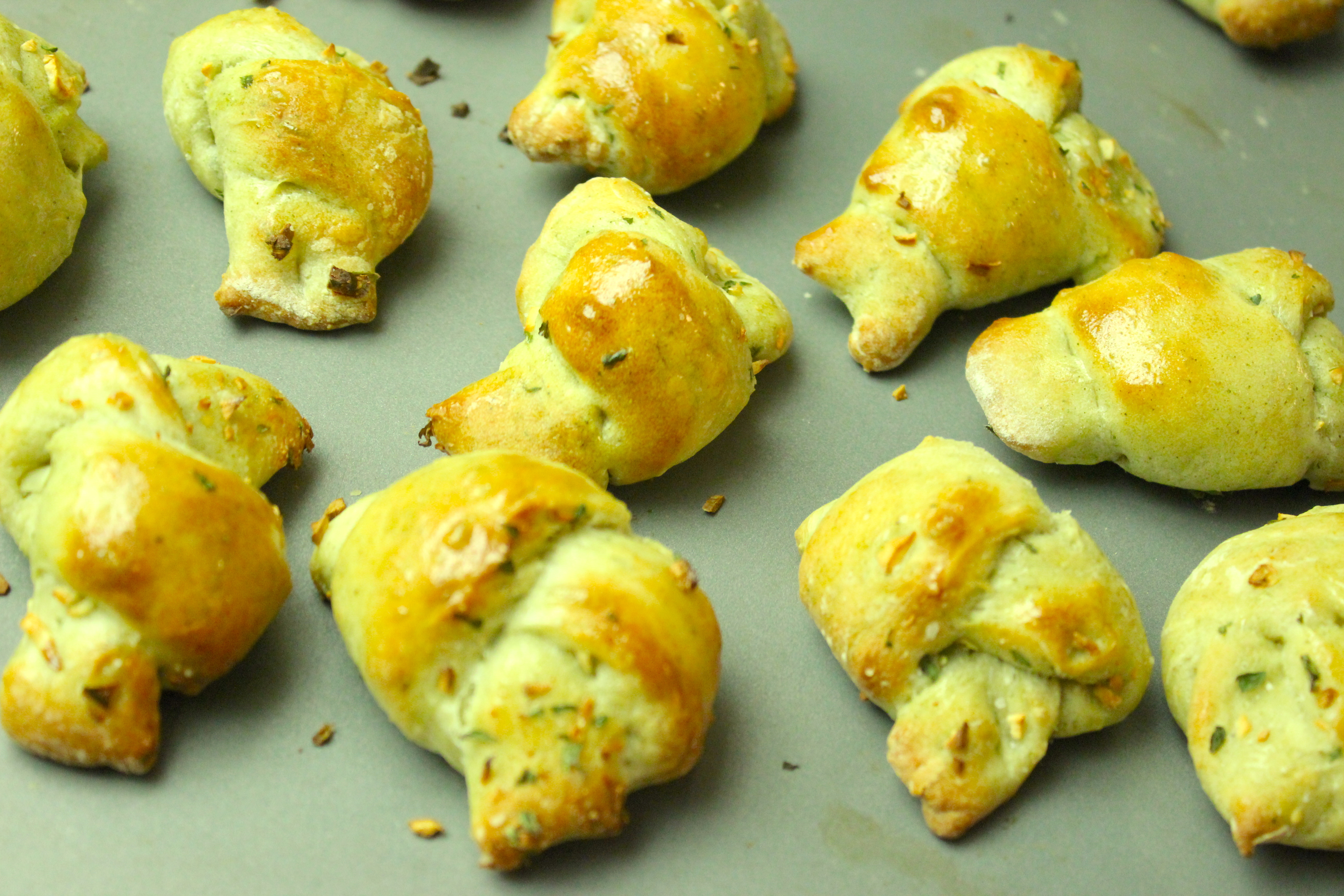 This garlic knot recipe is a variation derived from our delicious Moringa, More Pizza! recipe. Indulge in this garlicky goodness. Golden brown and crispy on the outside, warm and soft on the inside. Don't think about it, just try it.
Ingredients
(Makes about 20-30 garlic knots)
2 1/4 tsp active dry yeast
1/2 tsp sugar, brown or white
1 1/2 cups of warm water (about half cold, half hot water)
3/4 cup garlic, minced
1 tsp salt
2 tbsp olive oil
3 1/3 cups all-purpose flour, for the dough
1/3 cup all-purpose flour, to knead and roll the dough
2 tbsp moringa powder
1 bunch fresh parsley or basil, chopped OR 1/2 cup dried parsley*
2 tbsp butter, for coating
sea salt or garlic salt, to sprinkle on top
*You can definitely use more or less of which ever herbs you like. Parsley, basil, and rosemary all taste great with moringa garlic knots.
Directions
1) Dissolve yeast and sugar in the warm water and rest for 10 minutes.
2) Stir in olive oil and salt into the yeast water.
3) Mix in 3 1/3 cups flour and and moringa powder.
4) With your hands, roll and knead the dough until no longer sticky. Add the remainder 1/3 cup of flour sparingly until the dough doesn't stick.

5) Put the dough ball in a clean, large, oiled bowl and let rise until double in size. Cover the bowl with a warm cloth or saran wrapped in a warm area. The dough should be doubled the size in 30 minutes to 1 hour. The dough should be very smooth and soft.
6) Preheat oven to 425 degrees Fahrenheit while waiting for step 5.
7) Take the dough out onto a well floured surface and roll flat.

8) Sprinkle garlic and chopped herbs liberally onto the flattened dough. You can do this for both sides or fold the dough in half and re-flatten for two layers of garlic.
9) Cut the dough into strips. I found that strips about 1 inch wide and 6 inches long was easiest to work with. Tie strips into knots like you would tie a bow. Keep your hands well floured to prevent sticking. If the sticking is really bad, you can use some olive oil to help. 

10) Place knots on cookie sheet with space in between! Bake for 8-12 minutes or until puffy and golden brown. 

11) While the knots are baking, melt the butter in a pan with the left over garlic, herbs. Brush coating on the fresh garlic knots. Sprinkle with sea salt to taste.
You can enjoy right away or return to oven to warm with the butter garlic coating for a couple minutes for a crispier garlic knot. 

**Pro-tips**
– If your body is demanding garlic knots right NOW, use garlic salt rather than spending the extra time to chop fresh garlic.
– For garlic twists: take a strip of dough, fold in half, twist and bake!
– For the ultimate time saver, cut flattened dough on the baking sheet into squares. The squares puff and stick to each other but creates an easy and fun "pull-apart" type of garlic bread.
You can find many more yummy moringa recipes on our blog!