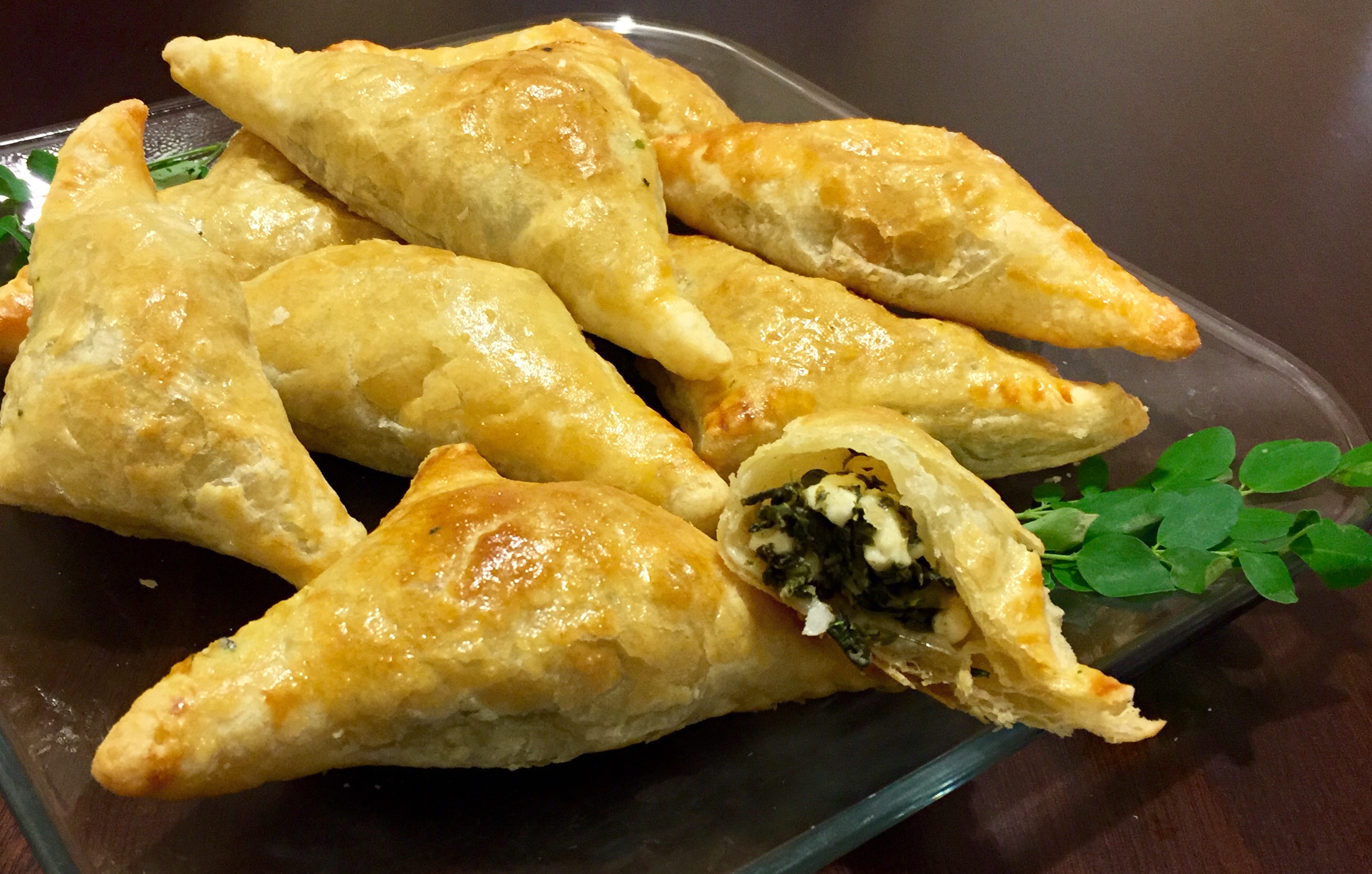 This easy recipe is inspired by the Greek dish, spanakopita, which is a spinach pie that's typically eaten as a snack. It's usually made with phyllo dough, but for convenience and to save the work of dealing with phyllo dough, we're going to use packaged puff pastry sheets instead. I think that using puff pastry also makes it a little less messier to eat.
I was able to pick up some fresh moringa leaves, or malunggay, in the produce section at Seafood City, a Filipino supermarket that's just down the street from me. If you live near one, I suggest you check it out!
Ingredients:
– 8 oz. frozen spinach
– about 1 cup fresh moringa leaves*
– 4 oz. crumbled feta cheese (I used garlic and herb feta cheese)
– 1/8 tsp pepper
– a dash of nutmeg
– 2 cloves of minced garlic
– 1/4 cup chopped green onions
– 1 sheet of puff pastry
– flour for dusting
– 1 egg
– parchment paper
*If you don't have access to fresh moringa leaves, you can up the spinach to 10 ounces and then add a tablespoon of Pure Moringa Powder (or however much you want) into the mixture in Step 3.
Directions:
Step 1: Preheat the oven to 375 degrees F.
Step 2: Thaw the frozen spinach in the microwave or in a small pot. Drain and squeeze out the extra liquid. It should measure out to about 1 cup of thawed and dried spinach. Too much liquid left in the spinach will make the end product soggy.
While thawing the spinach, measure out about 1 cup of fresh moringa leaves, then wash, dry, and chop it up a little. It should measure out to about 1/3 cup. Then measure out 1/4 cup chopped green onions.
Step 3: In a bowl, mix together the moringa leaves, the spinach, and the green onions. Then add in the feta cheese, pepper, garlic, and nutmeg. Be sure to mix it up well.
Step 4: On a floured surface, roll out the pastry sheet until it's about half the thickness, starting from the center and rolling out toward the edge.
Step 5: Cut into 12 squares.
Step 6: Place a rounded tablespoon of filling on one half of the square.
Step 7: Use a little water as glue around the edges of the square and fold the top half over. Seal the edges with a fork or a pastry crimper and place on a baking tray lined with parchment paper.
Step 8: Wisk an egg, then brush the top surface of each puff and bake for 12 – 15 minutes or until the surface is golden brown.
If you have enough leaves, you can replace all of the spinach with moringa leaves and reap even more of the amazing benefits of moringa.
Eat them while they're hot and enjoy!
You can find many more yummy moringa recipes on our blog!