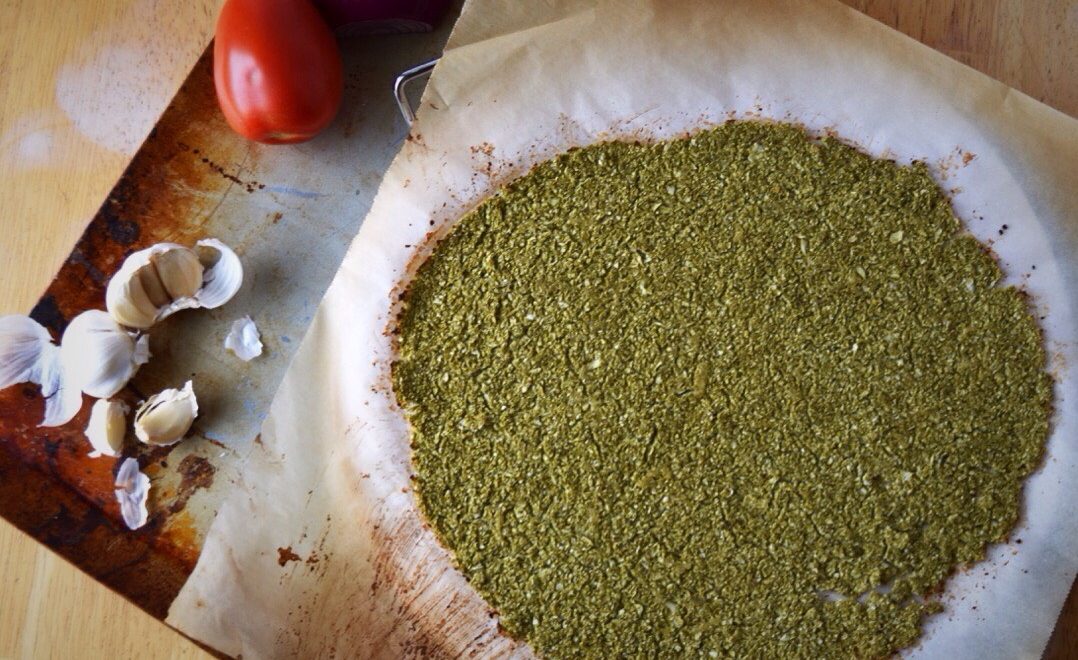 Pizza is an all-time favorite food item but has a bad rap for being greasy and unhealthy. A few simple changes to your traditional pizza can make it so much healthier.  For example, use less meat, more veggies, and a vegetable crust to improve the nutritional quality of any pizza.
A vegetable pizza crust provides a low-carb and grain-free option for pizza lovers with dietary restrictions. Adding in some moringa vegetable powder gives the pizza crust a healthy injection of vitamins, minerals, plant proteins, and a beautiful green color.
Cauliflower Moringa Pizza Crust Recipe
Yeild: 2 medium-sized pizza crusts
Ingredients
1 small head cauliflower, coarsely chopped

1 tbsp moringa powder
½ cup romano cheese

1 egg

1 ½ teaspoon finely chopped garlic

Salt and ground black pepper, to taste

1  teaspoon dried Italian seasoning mix
Directions:
Preheat oven to 450 degrees Fahrenheit.
Line a baking sheet with parchment paper. If using a pizza stone, allow the stone to preheat in the oven for about 15 minutes.
Coarsely chop cauliflower into small chunks. Pulse in food processor until the cauliflower has the consistency of couscous.
Place in a microwave safe bowl and cover. Microwave cauliflower for 3-5 minutes.
Remove from microwave and uncover. Use a potholder, the bowl will be hot. Allow cauliflower to cool until it is no longer hot to the touch.
Transfer cauliflower to a cheesecloth or fine cotton towel and wring the excess water out of the cauliflower. Really give it a good squeeze. Getting excess moisture out of the crust will make your pizza crust an even consistency and prevent crumbling. 
In a large bowl, combine romano, moringa, egg, seasoning, garlic, salt, and pepper into cauliflower until the mixture is consistent.  
Pour mixture onto the parchment-lined baking sheet; press and shape into a pizza crust.
If you're using a pizza stone, remove the preheated pizza stone from the oven, line with parchment paper, and press the mixture onto the parchment-lined pizza stone and press into the shape of a pizza crust.
Bake in the preheated oven until lightly browned, about 15 minutes.
Top with your favorite toppings and bake again for another 10-15 minutes.
Tip: adding the pizza sauce first can cause the crust to get a little soggy. Try adding other toppings first, such as cheese and veggies, then top with the sauce. This makes for a beautiful, artisan-style pizza and will keep your crust crispy.
What are your favorite toppings to put on your pizza? Comment and let us know.
If you bake up one of these pizza crusts, be sure to snap a pic and tag #kulikuli and #moringainspired on Instagram.